This page is being copy-edited, proofed and link tested. Not yet ready for publication on the main UPS website.
---
Proven Property Profits
Feature Article 1: The Ten Percent Enigma
How To Increase Your Capital By An Interest Rate Paradox
We are endeavouring to produce a series of "bite sized" feature articles to help members follow the logic we have applied to secure proven profits in the past, present and future. You are welcome to get in touch with Russ or any of the team at UPS-HQ (here) if this type of mini-project catches your eye and you fancy replicating the principles here. Especially the purchase+resale profit numbers. These may be of help to you in your own endeavours too.
Here, we cover the ten percent interest rate paradox that boosts capital value in harsh trading environments.
To be precise, we feature two properties in this article, First an old pub that was bought for £20,000 and sold for £150,000…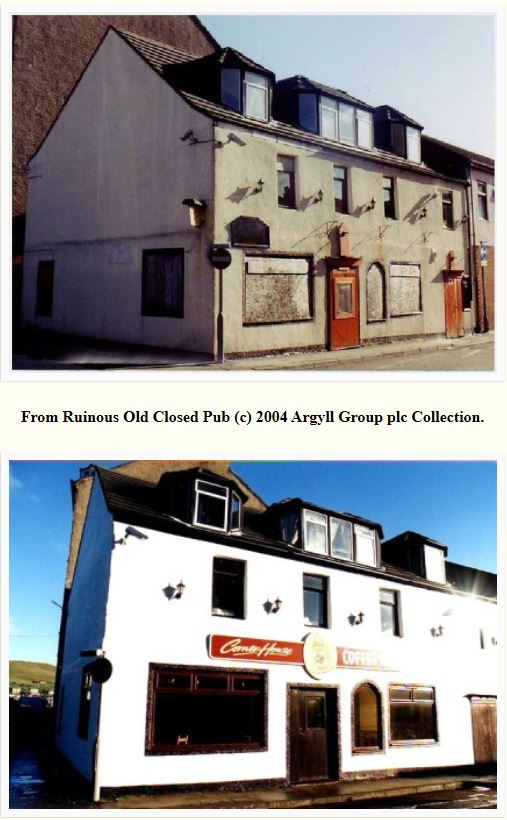 Above: Before & After Photos UPS7. Any Closed Pub, Any Tired Town.
This derelict old, closed-down pub was bought, renovated, re-opened as a coffee bar. The tenant we (UPS-HQ) secured to run the business traded very profitably. An old derelict property turned into THE place to go in a remote small Kintyre community. The photos above and below give a small taste of the work undertaken on this UPS7 project…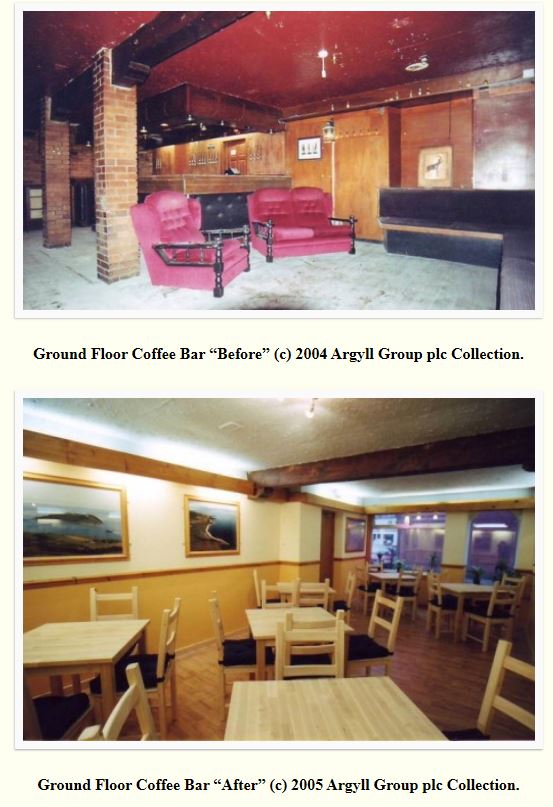 What may be eye-catching for you are the Land Registry purchase and sale numbers. These are impeccably sourced and verifiable at the online Government database (here). For brevity, we have excerpted a screenshot of the tasty bits…
---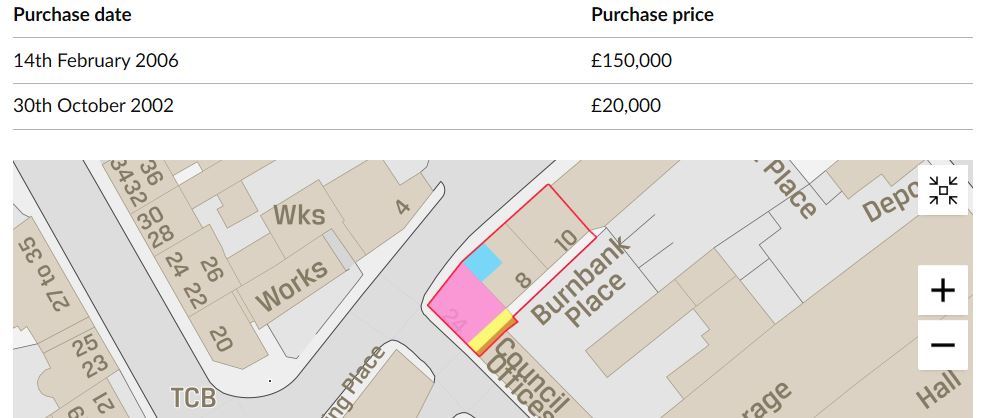 Formerly Known As Dillons Bar. Latterly Corner House Coffee Bar.
Official Land Registry Credentials/Source: Click Here. 
---
The numbers are real.
The gross profit of £130,000 was handsome.
The net profit was none too shabby either (here).
The key to much of what we do at UPS is underwritten and safeguarded by a healthy focus upon exit-route strategy. There are usually several of these for any given project. The 10% enigma and it's remarkable effect in helping boost a real-life figure of £20,000 to £150,000 is the one we discuss on this page. Especially as…
The Net Profit Was £90,159
Source: Here
These are not just random numbers. The Deeds and HM Land Registry sources provide comforts on the veracity of our thesis in this feature article.
For the derelict pub converted to a coffee bar, the local market was sparse in relation to buyers. That was actually good for UPS as we could buy at a lower price than most other areas in the country. The location is picturesque. Little wonder Paul McCartney brought up his family here and wrote the occasional song (do not click here unless you want an earworm of a tune in your head all day).
It pains me to no longer be harbourmaser in this beautiful place. That really was one of the best jobs in the world. I would have been having a cup of tea with the ship's company on that fine old vessel you can see berthed at Pier 2A…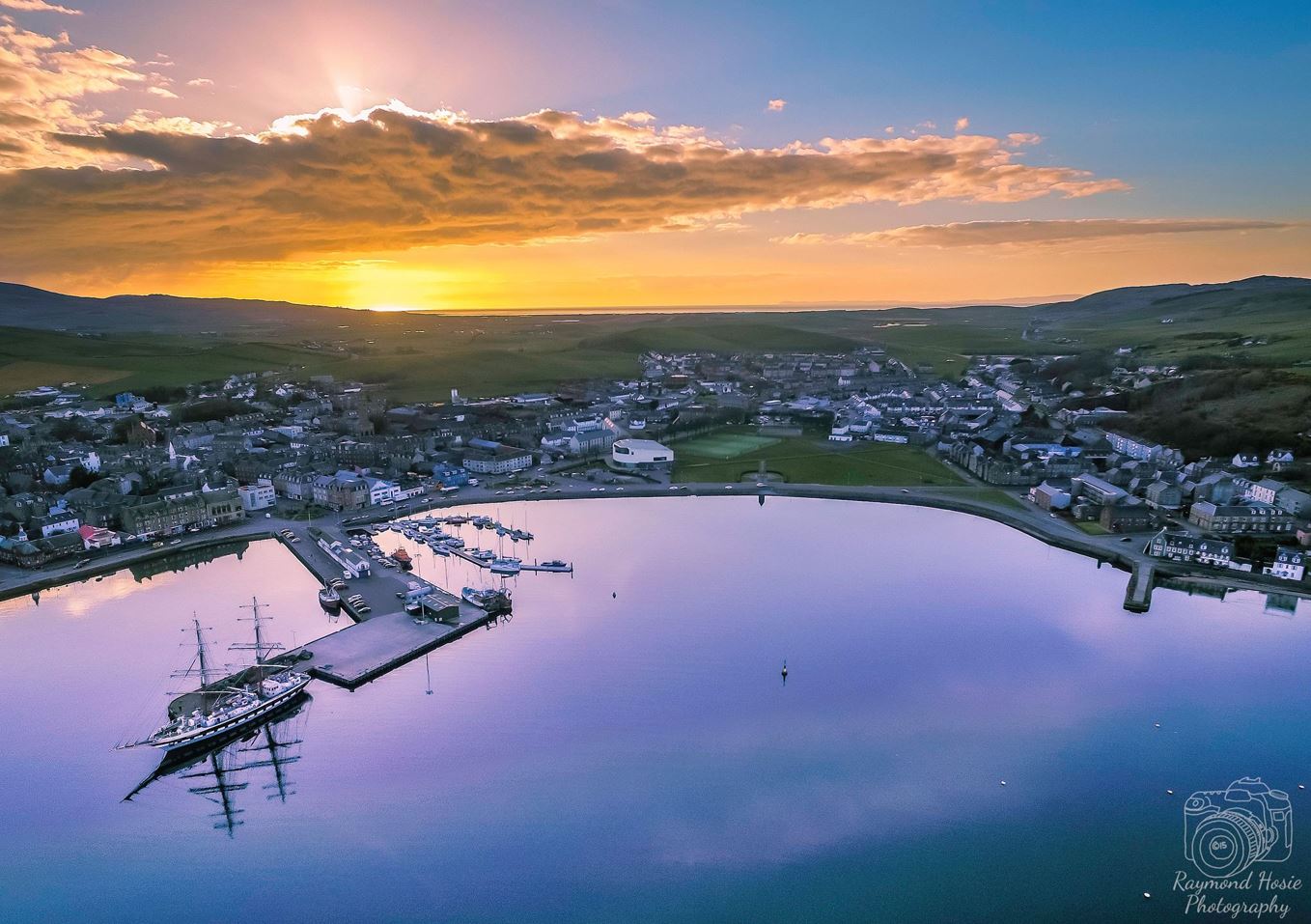 Kintyre is a very remote area. Property prices were historically very low.
Our niche was to purchase empty, closed down shops/pubs/hotels at competitive prices.
Renovate and and then resell them nationally/internationally.
Interest rates and investment decisions drove part of this.
A naturally beautiful location often helped complete each deal.
Incidentally, with Covid-19 on the rampage and the example of poor citizens in Leicester now back on major Coronavirus second wave lockdown (here), we, or rather our Unique Property Bulletin website has had a FOURFOLD increase of enquiries from people wanting to move house away from the cities and to remoter, healthier, more gentler places.
This is why we are reasonably relaxed about reselling the UPS25 Sannox Hotel site. Four prospective buyers are currently in discussion with UPS-HQ about purchasing Sannox Hotel.
Anyways, back on topic: the interest paradox on capital value…
We bought the UPS7 pub, renovated it and rented the place out. Why? Because many folk want to park their funds in asset backed property with a decent rental return.
That my friends is the magic. It is one of the tools of financial alchemy we are utilising so as to get us all to a point where our nest-eggs are grown and we can each by a lovely, exotic unique property for cash and live there with no mortgage nor other worries that literally plague the world nowadays.
Hark, I hear a few folk sing…
"Oy, McLean, you haven't been clear enough!"
Fair point. That bang on the head last year still has some of the old marbles rattling around upstairs and it can be a challenge to get the words on the page here, in the right order and with a style that is digestible.
The rent we were paid by the coffee shop tenant (UPS7) was £15,000 a year. He made that in a good week!

On the national resale market, we look at roughly a 10% return (sometimes we go to 7.5% sometimes 12.5%).

If you divide £15,000 by 10% you get £150,000 resale value on the UPS7 coffee shop.
That is exactly what happened. A gentleman from Findhorm got in touch and bought the place for £150,000. QED.
He viewed the coffee shop + middle floor internet café + top floor flat, all included in the £150,000. His visit coincided on a VERY busy Saturday. He loved the location. The RICS surveyor knew the property from when it was derelict and we had a lot of photos and supporting building control/environmental health/fire certification etc., documents that went with this.
By any standard, UPS7 was a success. We have repeated that in larger and smaller versions.

The 10% average investment return interest rate is very important to that process.
You may have noticed, and we certainly have, that when depositing our own savings in any bank just now, we are lucky to receive a mmeasly 1% return on that investment.
Adding insult to injury, the children turn up and say; "Dad, the bank are charging me 14% on the car loan, can you help out please!"
The banks are the second oldest profession and of the least honourable charging a 13% annual margin between what they pay me on my savings and then charge the next generation on a vehicle the youngsters need for getting to work.
It is clear from our own Unique Property Bulletin experience that many folk have irritation at the greedy, shameful way banks behave. Clear because many have opted to buy our buildings on the basis they produce a reliable 10% return from established tenants.
So when we renovate a property and help a tenant become established, generally the tenant has first refusal to buy the building. If they say "thanks, but no thanks) we then look to selling that building as an asset-backed investment property.
For two decades we have had a steady stream, much of it repeat business, where folk buy our buildings for 100% cash in order to secure 10% return.
That paradoxically helped increase capital values as a previously stagnant property market in southern Argyll started to lift. Sufficiently as to help many businesses be able to remortgage and stay viable (we don't have mortgages, but it is good that others could stay solvent).
So how does this interest rate and capital appreciation paradox affect US25 and likely the future UPS32 then UPS38 etc?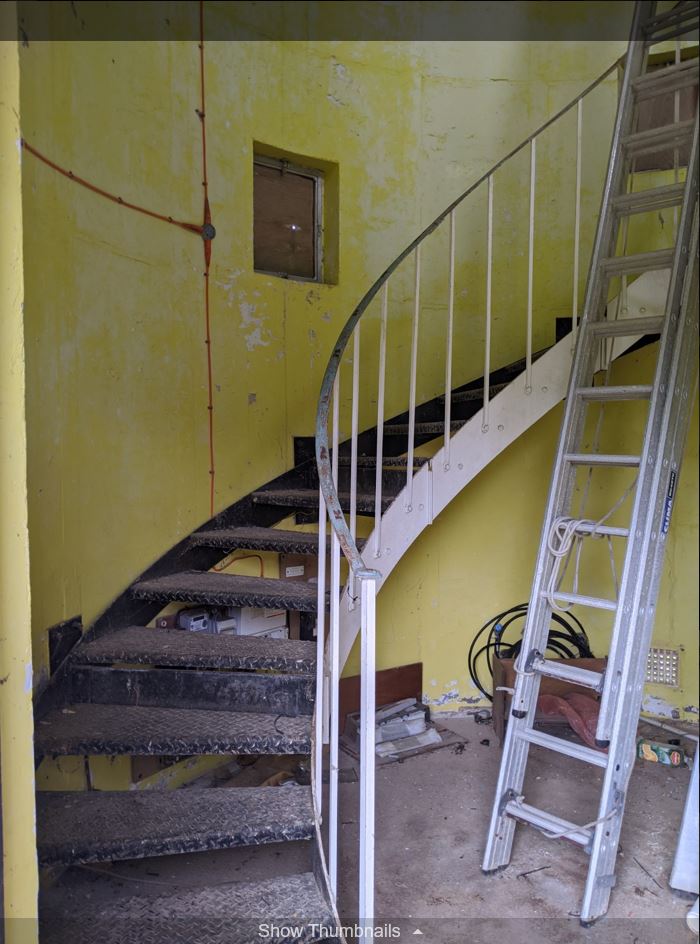 The Entrance to The Water Tower Candidate Sent In By UPS Member Mark N.
Allsops London Auction Page: Click Here.
Well this leads neatly onto what UPS member Mark just sent to me. It was supposed to be a unique property candidate. I mean, just look at this amazingly engineered staircase…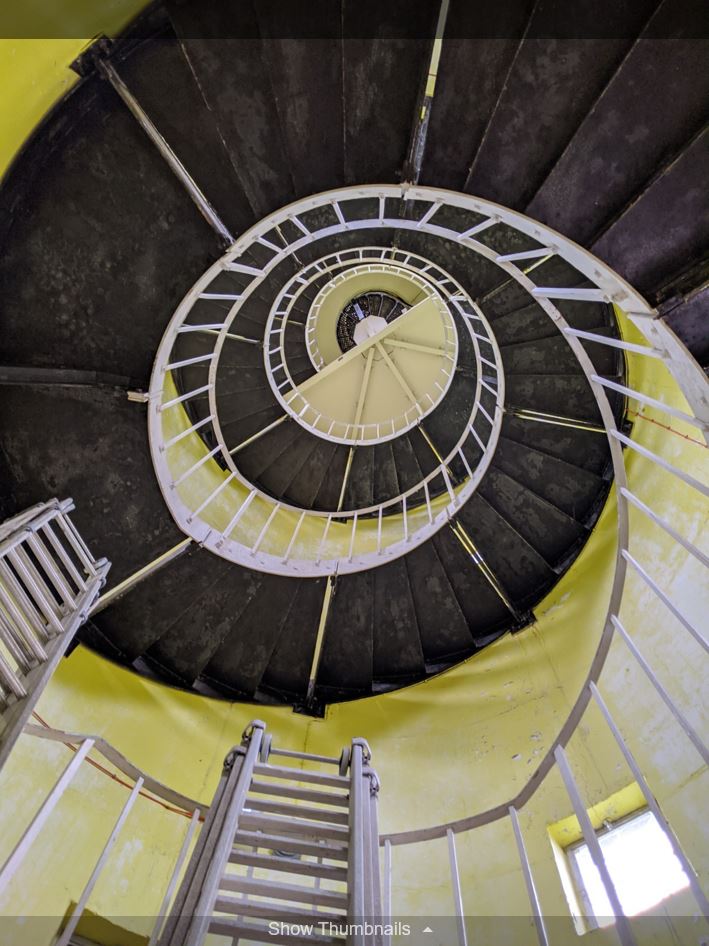 Industrial Constructions Can Be A Thing of Beauty
But…
(yes, there is always a "but").
---
When Money Jumps Off Of The Page
The picture that should capture attention from Allsops London auction catalogues is this one…
Rosudgeon Water Tower, Dola Lane, Rosudgeon,
Penzance, Cornwall, TR20 9PP
What we should all be seeing is a unique property and it's potential to convert into a unique home…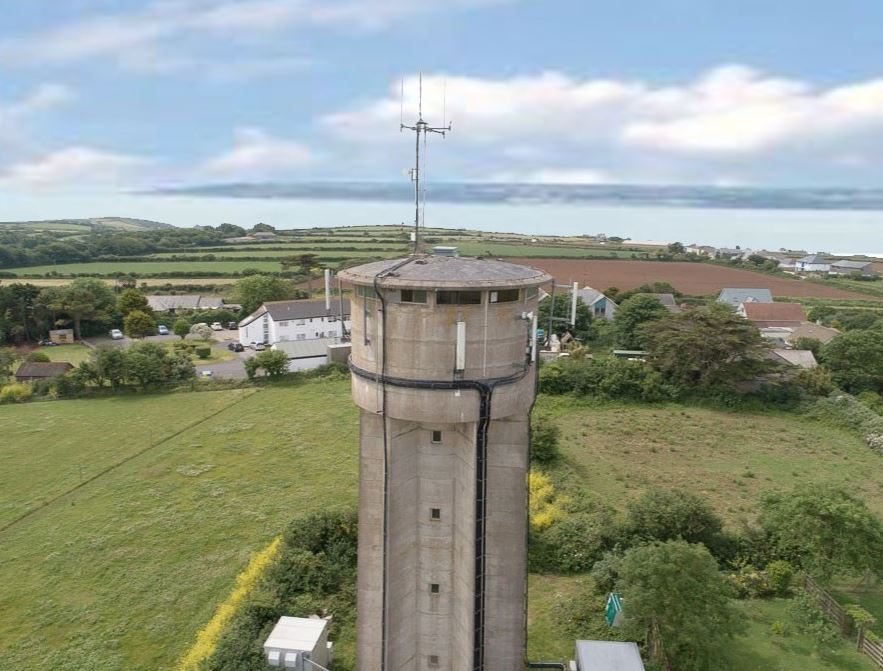 Rosudgeon Water Tower, Dola Lane, Rosudgeon,
Penzance, Cornwall, TR20 9PP
The view from the tower is also of a pretty remarkable property in the distance…
St Michael Mount ~ Close To Rosudgeon Water Tower
The "but"…
Firstly, whoever is selling the water tower at Cornwall is clever. They are using one of the biggest London Auction Houses so achieve best price.
I loved the staircase and the Rosudgeon Tower. But we have seen these water towers elsewhere in the UK sell for £18,000. A tenth of what Allsops are guiding. 
But what hit me right between the eyes were the income streams from the three communication masts at the top of this tower…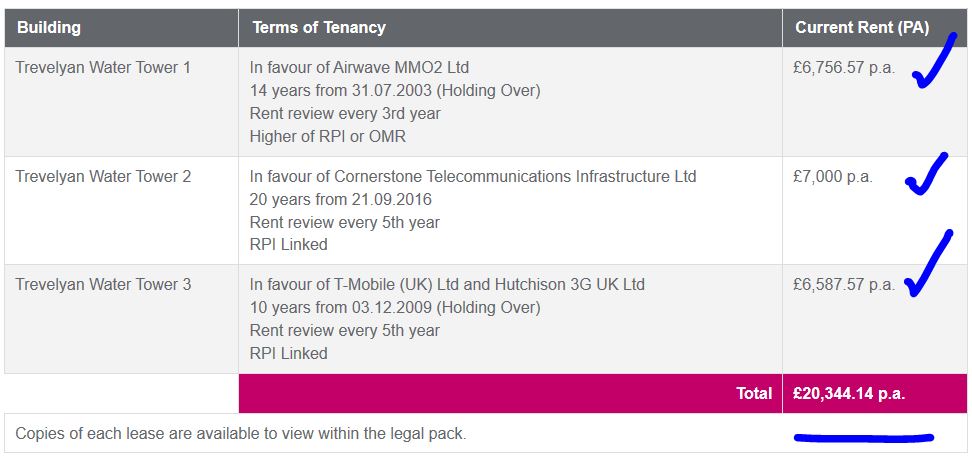 A Valuable Table of Information
Allsops London Auction Page: Click Here.
I had no idea that so many masts and so much annual income could ingather such a respectable sum of money. The £20,344.10 per annum income would require…
£203,441 in capital
… to secure the asset-backed 10% income stream we mentioned. This is attractive to many folk seeking to either manage their own pension, or a growing number of folk looking to retire at 40 to 45 years of age by managing their own asset base and income stream. To effectively "buy" their working indentured servitude from an employer and spend 15 to 25 years of the prime of their lives between 40 and 65 years of age free from traditional work and as they would wish to do.
If you earn currently say £30,000 per annum, then it is highly possible to "grow" your property nest-egg to the £300,000 mark and thereby with careful stewardship ensuring your property portfolio produces 10% per annum, you have £30,000 (reasonably index linked) for life! Plus you have the capital gain of property over time to hedge your future income stream growth.
We know this is how a significant number of folk arrange their affairs as they have bought shops and hotels from us and are now off exploring the world, enjoying the time of their lives…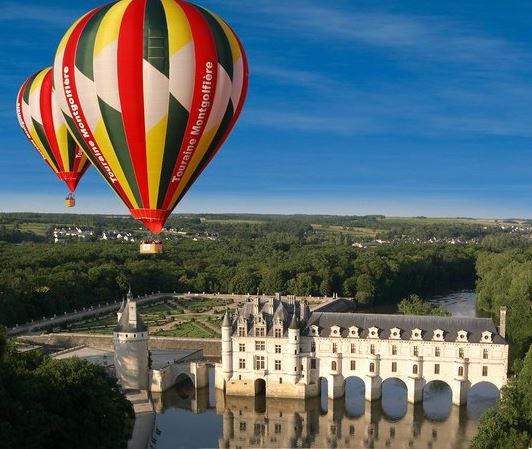 Jon Nunns Bought 6 Main Street From Our Argyll Group (Here)
Plus several other properties.
The income is enabling Jon to have freedom to go round the world in a hot air balloon
That water tower is a prime example of the 10% investment property portfolio being built to allow freedom from the rigours of a 9-to-5 golden handcuff traditional job. It wil be interesting to see what Rosudgeon water tower actually makes at auction.
We are tempted to bet our good friend Mark a tenner the water tower will go for more than £150,000.
Okay, whilst the Coronavirus works its way through all of our lives there will definitely be uncertainty in the property markets so the water tower may stick. But in "normal" times there is a large market for 10% investment properties from folk who are just sick and tired of the banks insulting them with 1% on their savings. I am in that category. Hence the enthusiasm for growing the old nest-egg.
By pooling our resources at UPS we can turbo-charge that ability such as buying the larger sites such as Noss Head Lighthouse Station (UPS24) and securing a 30% net profit mostly inside 18 months (with the tail enders taking several months more to clear).
One final point on whether Rosudgeon tower will make more or less than £150,000 there are reports of 8 billion pounds of pent up demand in the property market and we kind of worry things might go a bit demob happy when folk are released from lockdown. You do not have to look far to see what can happen when folk are let loose…
So it may be time to start studying what is happening in the major auction houses as the Covid-19 curve levels downwards after that horrendous peak during March and April 2020.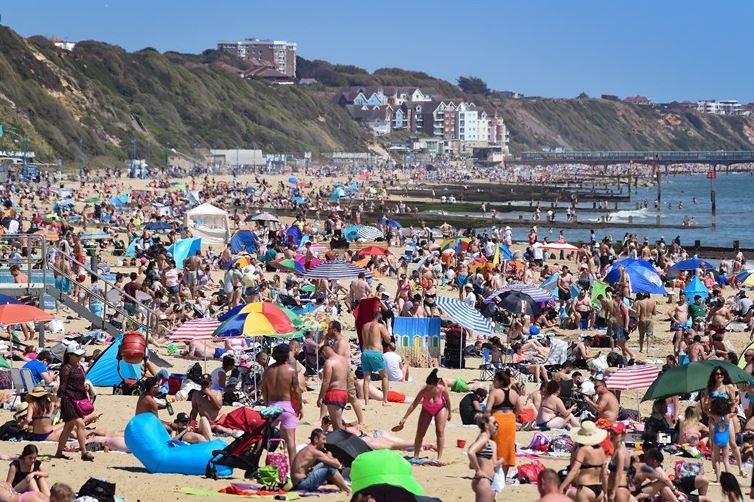 When Covid-19 Gets A Vaccine or Meds Regiment, The Bournemouth Beach incident
May Be A metaphor For Folk Going On A House Buying Spree.
Returning to the rental income table for Rosudgeon water tower, should we look at a mini syndicate for that? Not at the £150,000 to £200,000 level.I would suggest that table is likely to smash the hopes of anyone wanting to buy that water tower for vonversion into a unique home.
More likely the sellers, the auctioneers and the eventual buyers will be looking at a steady and reliable £20,000 income per annum off or the telecoms companies.
So what should we think of all thsi at UPS.
My reckoning is slightly different, and I will have a chat with Mark about this as he has a great capacity for lateral thinking (and saved UPS25 members £4,000 in excess stamp duty, for which we all owe him a pint).
I believe our best bet in these circumstances is to uUtilise this 10% investment protocol to grow our respective nest-eggs.

Find water towers at £18,000 without masts that are in poorly service mobile cells areas.

Then negotiate similar rental leases to the table above and resell at a significant profit.
One of the great things about having such a deep base of knowledge and skillsets within our 90 participating members and the 383 folk who have access to this UPS website for our VIP folk is that we can locate wise counsel on these matters.
Hopefully the above essay gives some food for thought.
Please feel free to get in touch (here) with your views, ideas and especially if you see some bargain water towers that are suited for telecoms masts.
Very best wishes, and please stay safew.
Cheers,
Russ.
---
Russ McLean, UPS-HQ, 21m Thistle Street, Carnoustie, DD7 7PR
Tel/Text: 0757 2768 795
---
Widget Photo Box Graphic For HTML Insert…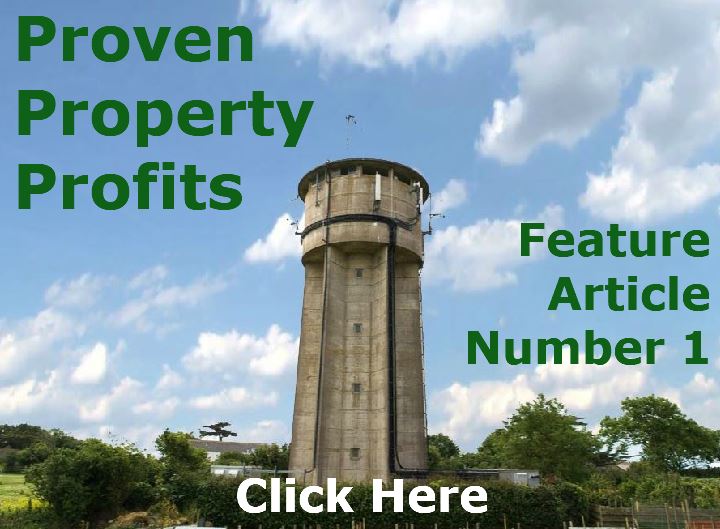 ---